:: Registration
Organisation of the SDA scheme

Procedures for teachers and students

This is a simple administrative matter. Schools who wish to participate in the scheme must contact Practical Action or CAT to register with details of the school name, address, and contact details, teacher contact for SDA, exam board studied, AS and/or A2 level students. Download forms and send to Education Unit, Practical Action, Bourton Hall, Bourton on Dunsmore, Rugby CV23 9QZ or email [email protected] .

Whatís on offer for AS students
AS systems vary according to exam board but in principle the process for all schools will be the same as shown in the chart (View a chart for AS Students). Please note that AS students are not allowed direct access to the support service, nor are they able to attend student study weekends.

Whatís on offer for A2 level students
There is less variation between boards, all requiring a major designing and making project, which is what will be assessed for the purposes of an SDA Part 2. All schools will therefore operate to the pattern shown in the diagram (View a chart for A2 Students).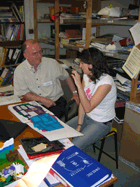 Registering students for AS and A2 Awards

This will be as simple a procedure as possible, and is designed to enable us to give our support to teachers and students as efficiently as possible.

For AS level, we only need to know individual studentsí names, along with an indication of the units of work that teachers will be assessing for the SDA Part 1. Where this involves an SDA design context or suggested product study, it will be useful to know in advance in order to prepare for support service requests. Download AS form

For A2 level, we need to know individual studentsí names, a brief description of their design context (or title if taken from SDA list) and the name of their partner organisation. Download A2 form