Sustainable Design Awards Toolkit

Section 2.1 - Factors Influencing Companies?

Saving money

Companies have realised that making reductions in products' extraction, manufacture and distribution could make direct cost savings. When take back laws such as WEEE and End of Vehicle Life (please see legislation section) are used companies will also save money by designing their products so they are easy to disassemble, repair, reuse and recycle.

Example:
Redesigning a product so it uses less plastic will directly reduce the amount of plastic the company has to buy. Using energy efficient and less wasteful processes can directly reduce manufacturing costs for a company.

New 'green consumer' markets

Eco-design can lead to better quality, innovative new products. From the late 1980s a market sector of 'green' consumers has emerged wanting 'environmentally friendly' products. Some companies saw potential commercial advantage that could be gained by developing 'greener' products.

Example:
Many consumers will check the environmental profile of the company and look for awards and eco-labels like the 'blue angel' before buying.

Competition

If companies do not try to keep up with and predict future legislation they can fall behind with their environmental knowledge and design work. If their competitors' designs are environmentally superior companies unable to replicate this level of environmental performance could face financial ruin.

Example:
With the support of Greenpeace and in defiance of competitors' contentions, the East German company DKK Scharfenstein/Foron developed the world's first refrigerator that was free of FCs and CFCs, called 'Greenfreeze'. There is evidence that FCs and CFCs weaken the ozone layer, which protects us against the sun's radiation. The refrigerator was launched onto the market with the support of purchasing guarantees. A few months following the product launch the other manufacturers had to follow suit and offer their own refrigerators free of FCs and CFCs.

Keeping a good environmental image

Environmental organisations can use the media and influence consumers for or against companies.

Example:
The appeal made by environmental organisations, notably Greenpeace, to boycott Shell because of its plans to sink the 'Brent Spar' oil platform was publicised very rapidly via the media. As a consequence Shell found itself obliged to revise its plans and dispose of the platform on land.

Protecting the health of workers

Trade unions defend the interests of workers. Many agreements have included clauses relating to the environment.

Example:
In the late 1980s the German trade union IG Metall organised a campaign titled 'crimes on company premises' which aimed at the substitution of hazardous substances in solvents (e.g. CCs) used in the companies.

Corporate social responsibility

Increasing numbers of senior managers have begun to regard the environment as an area of corporate social responsibility. Managers can also have pressure from employees, investors and shareholders.
Legislation

From the 1970s onwards there have been increasingly tough regulations. Failure to comply with these regulations can lead to prosecution. New legislation is now centralised around take back systems. In these systems the responsibility of safely disposing the product at its end of life is given to the producer. Examples of other legislation already in use are also covered.

Legislation: WEEE

WEEE stands for Waste Electronic and Electrical Equipment, which covers any product containing a plug or battery. This waste often includes chemicals and lead, yet 90% of WEEE is landfilled without proper treatment. The quantity of WEEE within the EU is growing at a rate of 3 – 5% per year. This growth is 3 times higher than municipal (household) waste. The Netherlands, Denmark, Sweden, Austria, Belgium and Italy currently have similar legislation; Finland and Germany are expected to follow soon.

EC Draft WEEE Directive:
Producers (importers and manufacturers) are responsible for financing the collection, recycling and safe disposal of WEEE.
The producers would not be able to safely dispose of materials such as lead, cadmium or mercury. The directive therefore bans their use.
As a result of the directive it will be more financially sound for producers to repair or reuse products rather than disposing of them. This will hopefully encourage companies to design for easy disassembly and recycling.
A recycling target would be set for the WEEE the producers have collected back from consumers. This would be around 90% by weight of large appliances such as washing machines and 70% by weight for smaller appliances such as hair dryers.
The producers will be left with the resulting recycled polymer to either use themselves or sell on. This will help to encourage a level of recycled material in new products (national governments would set this level)
Source: Dr Tracy Bhamra 'Ecodesign & Business lecture' Loughborough University 2001

Legislation: End of Vehicle Life

Two million cars are scrapped in Britain annually. Currently only about 30% by volume of the materials inside old cars can be removed economically, the rest cannot be detached easily enough. EU laws may soon be changed so producers will by law have to recycle every car they have produced. It is hoped that eventually 95% of a vehicle will be recyclable and the resulting recycled steel and plastic can be used in new products. It is predicted that producers will pass the costs for this through to consumers by increasing the cost of new cars.

The law is still in discussion, as many car producers, such as Rover, claims that the law is flawed. Rover claim that recycling every single car they had ever made would cost several hundred million pounds. This cost could financially ruin companies.

Source: Dr Tracy Bhamra 'Ecodesign & Business lecture' Loughborough University 2001

Legislation: The Producer Responsibility Obligations
(Packaging Waste) Regulations 1997

By adopting the principle of 'producer responsibility', the UK government has implemented the EC Directive on Packaging and Packaging Waste (94/62). The environmental costs of packaging are placed on those who produce and use it. Currently, this affects only businesses with a turnover of £5 million or more, although this is staggered over time to include smaller operations.

The regulations sets out recovery and recycling targets for manufacturers (6%), converters (9%), packers and fillers (37%) and sellers (48%).

Source: www.wastewatch.com

Legislation: Environmental Protection Act (1990)
(including Duty of Care)

This covers the disposal of waste. Section 34, the Duty of Care applies to organisations that generate waste. This applies to all who produce, import, carry, treat or dispose of 'controlled' wastes, which includes all household, commercial and industrial wastes, liquid or solid. Everyone subject to the Duty of Care must ensure that their waste is kept in a secure container so none can escape and that it is only transferred to authorised carriers.

Source: www.wastewatch.com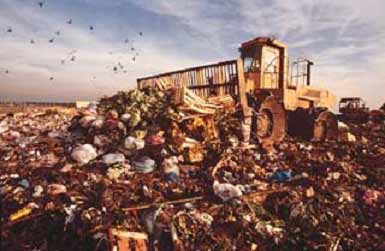 Legislation acts to minimise areas like this.
Source: www.demi.co.uk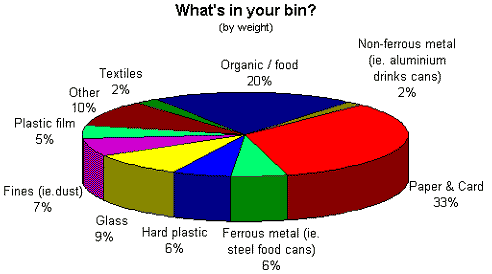 Source: www.wastewatch.co.uk

Ideally legislation will lead to all of these items being recycled or composted.

Legislation: Landfill Tax Regulations and The Finance Act 1996

On 1 October 2020, a tax of £7 per tonne was introduced for active waste (the majority of waste we produced is active), and £2 per for inactive waste (for example rubble). In the March 1999 budget the standard rate was given a yearly increase, or 'landfill escalator', of £1 per year until it reaches £15 per tonne in 2004. Although the tax is collected from the landfill site operator, the costs can be passed through the collection chain to the companies that actually generate the waste.

Source: www.wastewatch.co.uk

Legislation: ISO Standards

ISO 14001 is the title of an international series of standards which were developed to introduce, establish and provide the means of examining and certifying environmental management systems (EMS) in companies. ISO standard 14001 defines requirements on the EMS. It is intended to enable companies to bring their EMS in line with other international policies and requirements. The standard is meant to be applicable to any company regardless of its size and of geographic, cultural and social conditions. Its overriding goal is to promote environmental protection and to achieve environmental and economic goals.

ISO 14040 is part of the ISO 14000 series, which deals with product life cycle assessment (LCA.) These standards define a uniform structure for an assessment method whose purpose is to facilitate decisions in product and process development. (LCA is a tool to identify and assess the environmental improvement potential of a product throughout the various phases of its life cycle.) This is achieved by:

Compiling an inventory of all material and energy flows associated with the product along the entire course of its life cycle
Describing potential environmental impacts
Evaluating the outcome with respect to the goals of LCA
Consideration is given to the product system as a whole.
This level can be very expensive for smaller companies to achieve. Companies can get publicity by meeting these regulations, however.

Source: Ursula Tischner, Eva Schmincke, Frieder Rubik, Martin Prosler 'How to do Ecodesign?' Verlag form praxis, 2000