LOTS OF CHANGES
There's been a lot happening on the site over the last few weeks.
THE FUTURE
Official funding for SDA stopped on 31 March, 2007. We have been fortunate to have been supported by both DFID and the EC over the past four years. This has enabled us to provide resources, training and support free of charge.
We will continue to offer SDA certificates to AS and A2 students. Unfortunately, unless we are able to gain additional funding, we will not be able to offer students individual support through the enquiry service.
We hope to be able to offer training for teachers in sustainability in D&T and to continue to produce resources. We'll post details on our websites and through the usual D&T channels.
DATA CONFERENCE
Those of you who have attended DATA conferences over the last four years will know we feature the work of inspirational students prior to the dinner. We have seen some exceptional products in that time. This year, we hope to have an appropriate display featuring one of the pilot year students, Emma Berry. Emma has remained in design, and graduated this year from Goldsmiths College, London. She will be talking through her experiences of sustainable design from her early SDA beginnings to professional experiences now.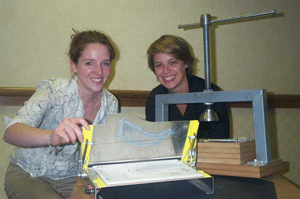 Emma pictured right, with her friend Kirstie Nichols, at the DATA conference 2003. Both students designed and made methods by which entrepreneurs in East Afica might package their products with re-used or recycled materials.
EMILY CUMMINS
Another former SDA award winner, Emily Cummins, has had phenomenal success since her AS project took her to DATA at Sheffield Hallam University in 2004. Then she had designed and made a water carrier to enable women to carry more water per journey in their daily routine.
The following year, Emily designed and made a sustainable, solar-powered fridge, again for use in Africa. As a result of being nominated by SDA to the National Endowment for Science, Technology and the Arts, she won a grant that enabled her to visit Namibia to see what interest there was in her fridge.
When she returned, she was nominated for the Shell Woman Technologist of the Future award, sponsored by Shell. In competition with other far older and more experienced than her (a Ph.D, a woman Formula 1 team member) Emily was chosen in the 18-35 category – the only teenager in the final six.
Emily's experience is testimony to what sustainable design can achieve. We look forward to hearing more about the exploits of this remarkable young woman!
For more details of Emily's work, go to her personal website, www.emilycummins.co.uk