:: Specific Design Brief

Practical Action 5: Sustainable Cooking - further information

PRODUCT DESIGN SRI LANKA - METHODS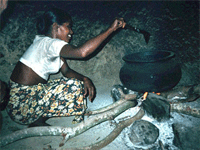 The three stone fire
By far the most traditional method of cooking is on the three stone fire. It is also by the cheapest. All you need are three suitable stones of the same height on which your cooking pot can be balanced. The problems are obvious
• smoke and steam can cause health problems
• balancing the pot is vital
• only one pot can be used at a time
• there is no heat control
• it is easy for accidents to happen
• fuel is wasted
• attending to the pot and adding fuel both require bending

There are advantages for most people in using the three stone fire and any new stove needs to consider the following points
• It is convenient
• It involves NO cost at all
• It can cope with a wide range of pot sizes and shapes
• It heats the kitchen area in cold weather
• The smoke is used to process food e.g. fish, meat and cereals to give a longer life.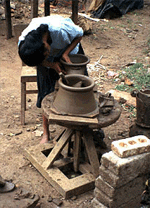 Other existing methods
People in Sri Lanka have been developing improved fires in a bid to cut down fuel waste and health and safety hazards. They have had considerable success. One of the improvements is the Anagi stove, developed to reduce the quantity of biomass needed, to enable two pots to be used at once, and to cut down health risks.

It has been estimated that the Anagi stove results in a 50% reduction in biomass usage. As a result it has become very popular with all classes of people, especially when the price of liquid petroleum gas or kerosene has risen.

Continuing issues
Although the Anagi stove improved life for many Sri Lankan households there are still some areas where people are looking to improve its design or develop a new type of stove.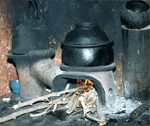 Some of the areas suggested by Dr Amerasekara, the Director of Integrated Development Association, A Sri Lankan non-government organisation working with Sri Lankan people are
• a stove capable of being used with larger pots suitable for use by small scale street traders
• a stove capable of coping with a wider variety of sizes and shapes – current stoves can use stoves of between 20 and 50 cm diameter and usually manage round-bottomed pots more safely than flat-bottomed
• some kind of hood or chimney to take the smoke and steam away from the kitchen or area where it is being used
• investigating other sources of fuel to replace wood, especially if it was waste products from other kinds of work
• a more permanent installation – free standing stoves may only last one year whereas installation extends life to five years
• developing a simple stand allowing people to work at the correct height rather than constantly bending or crouching.
What would be the specification for an improved stove?
• Cost is critical. Most current stoves sell for around 100 rupees. (150 rupees = £1) A loaf of bread sells for about 10 rupees in a Sri Lankan market.
• Something for a small street industry would need to be made for less than 1000 rupees
• Able to support pots with a capacity of 100 litres of liquid.
• Capable of supporting a variety of different shaped and sized pots.
• Capable of adapting for either internal or external use.
• Includes a method of smoke extraction for the kitchen.
• Able to use at least two pots simultaneously.
• Uses locally available materials, preferably clay, since this is the cheapest material widely available in Sri Lanka. Metal is also available.
• Draught is also very important – the design would need to generate enough heat, especially for use in a domestic industry.

FURTHER INFORMATION
ENERGY SOURCES